Covenant With the Poor
Are we following in Jesus' footsteps?
Throughout his life Jesus taught us the importance of caring for those less fortunate than ourselves. One of the ways that we put our Mission Statement into action at St. Augustines is through our Covenant With the Poor. Every half term a class takes charge of raising money or donations for a charity to help those in need. Our families and friends are always so supportive that we are always overwhelmed by its success! Please take a look at some of the work we have done as a whole school to ensure that we are putting our faith into action and truly following in Jesus' footsteps...
Year 2 - MacMillan Cancer Research September 2017
On Friday, Year 2 hosted the Macmillan Coffee Morning. We had an amazing turn out and an unprecedented amount of home baked goods to sell. We would like to thank everybody who donated cakes and prizes, helped out on the day or turned up to support us. The current total raised stands at £341!! You are all amazing, thank you so much!
Year 4 Mary's Meals Backpack Appeal 2017
This has been an amazing term for Y4 because many people have donated to the backpack project. We put together 15 backpacks with your generous donations. (Nanayaa, Y4)
Also we filled four boxes with spares to fill other backpack. It has been a great success.(Freyja, Y4)
They will make a big difference to familes and children. It is all down to your kindness. I am sure that Mrs Towey will be so, so proud . Thank you from the bottom of our hearts. [Charlie year 4]
The whole school community has helped Y4.[Nikodem y4]
I am sure the Mary's Meals charity will be really thankful for all of these amazing things. Also, all of the children who will receive the backpacks will be greatful for the help with their education. (Chloe y4)
So thank you for supporting us and donating all of these items. (Ruksayini Y4)
Early Years Foundation Stage -July 2017
Nursery and Reception sold soft toys and had a coffee morning alongside our sports day.
We were very pleased to raise £167.74 for St Rocco's Hospice.
Thank-you all for your continued support.
Year 6 CAFOD December 2016
Year Six have made little bags of Reindeer food to sell this Advent in order to raise money for CAFOD.
Socks for Crops - October 2016
Year 5 headed a 'Socks for Crops' campaign to raise money for CAFOD so that they could provide crop seeds to those in need abroad. We uploaded our photographs to our School's Twitter account and we got an official re-tweet! Well done Year 5.
Year 4 - Mary's Meals 2016
Year 4 would like to say a huge 'Thank you' for your very generous donations to this project, as usual the response is overwhelming.
EYFS
Action for Children
EYFS took part in a Giant Wiggle sponsored walk to help raise money for the charity Action for Children. The walk was linked to our topic 'The Very Hungry Caterpillar.'
We wiggled around the school playground several times with our balloons, hats and flags. Thank you to all our parents and families for their support and wiggling!
We raised over £320 for Action for Children!
Year 3
During advent we took part in an appeal with the Mini Vinnies to collect food and luxury goods for a local charity called St Joseph's Family Center in Warrington.
We were delighted that we had such a fantastic response from families across the school but particularly in Year 3 and managed to gather so much food to help needy families in our local area.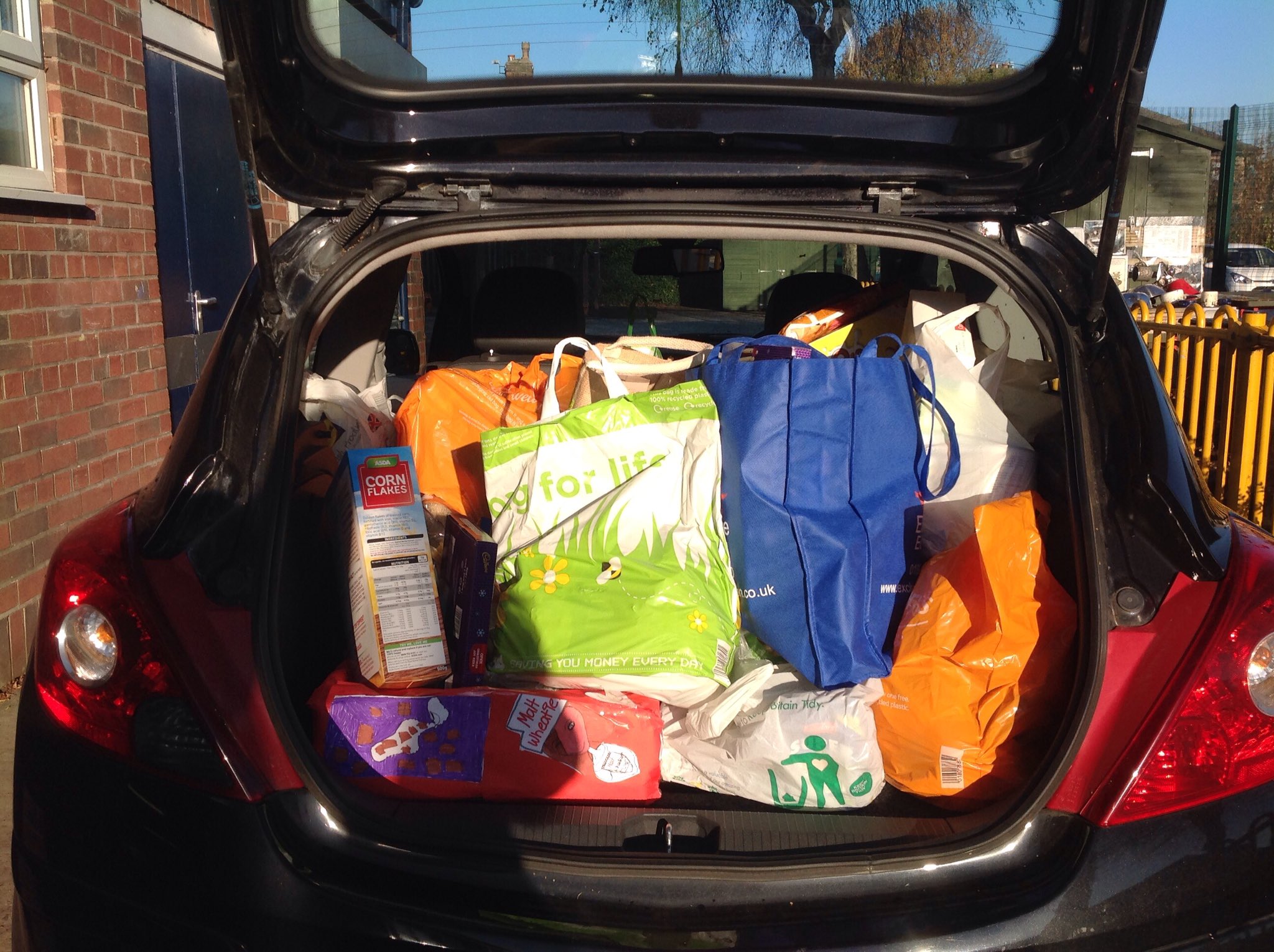 Year 6 - Advent Cafod
Below is a copy of the letter Y6 put together to send home to all children in St Augustine's explaining all about their Advent Covenant with the Poor...
Each week they worked in credibly hard to raise as much money as possible and, as ever, the children of St Augustine's embraced their idea fully! We raised a total of £48.61 and tweeted CAFOD our successful result.