Are we following in Jesus' footsteps?
Throughout his life Jesus taught us the importance of caring for those less fortunate than ourselves. One of the ways that we put our Mission Statement into action at St. Augustines is through our Covenant With the Poor. Every half term a class takes charge of raising money or donations for a charity to help those in need. Our families and friends are always so supportive that we are always overwhelmed by its success! Please take a look at some of the work we have done as a whole school to ensure that we are putting our faith into action and truly following in Jesus' footsteps...
Foundation Stage Fun Duck Day June 2018
Following the birth of our ducklings in school Foundation stage decided to link our charity event to this. We had fun activities on our school field. These included hook an duck, pin the beak on the duck, name the duck, find the duck on a map, how many eggs are in the nest, crack the secret code and egg and spoon races. All the children also enjoyed a cake and a drink. Good fun was had by all and we raised £120.00. Many thanks for all your kind donations that will go to 'The Mission Together' Charity.
Year 1's sponsored bootcamp April 2018
Year one have been raising money for The Good Shepherd Appeal. They decided to do a sponsored bootcamp. The children had a circuit set up of 12 different exercises and they had to do 45 seconds on each exercise. We then got the grown ups to join in. The bootcamp was a huge success and raised £145.
Year 4 - Mary's Meals January 2018
In Year 4 we have been raising money and collecting lot's of items for Mary's Meals and The Backpack Project, who recycle all the items that are donated and send them out to children who need them in Malawi to help them get the most out of their education.
Year 4 were delighted when they noticed how much their posters had influenced the children of St Augustine's. We received lot's of the items wanted, such as; backpacks,exercise books, pencils, crayons, children's clothes, soap and tooth brushes.
We also had a generous donation from school of rulers and pencils, which will have a huge impact on the children in Milawi.
Thank you so much!
Year 3 Children in Need November 2017
Year 3 have been busy baking and buying cakes to sell at playtime to raise money for Children in Need. Unfortunately they sold so quickly Mrs Scotson didn't even have time to take a photograph! Below is a lovely photograph of them all celebrating diversity, so you can still see who is responsible for this success! A huge well done to Year 3 who raised £74.20 for this worthy cause! #faithinaction
Year 6 - Advent 2017 CAFOD
Below is a copy of the letter Y6 put together to send home to all children in St Augustine's explaining all about their Advent Covenant with the Poor...
Each week they worked in credibly hard to raise as much money as possible and, as ever, the children of St Augustine's embraced their idea fully! We raised a total of £48.61 and tweeted CAFOD our successful result.
Year 2 - MacMillan Cancer Research September 2017
On Friday, Year 2 hosted the Macmillan Coffee Morning. We had an amazing turn out and an unprecedented amount of home baked goods to sell. We would like to thank everybody who donated cakes and prizes, helped out on the day or turned up to support us. The current total raised stands at £341!! You are all amazing, thank you so much!
Year 3
During advent we took part in an appeal with the Mini Vinnies to collect food and luxury goods for a local charity called St Joseph's Family Center in Warrington.
We were delighted that we had such a fantastic response from families across the school but particularly in Year 3 and managed to gather so much food to help needy families in our local area.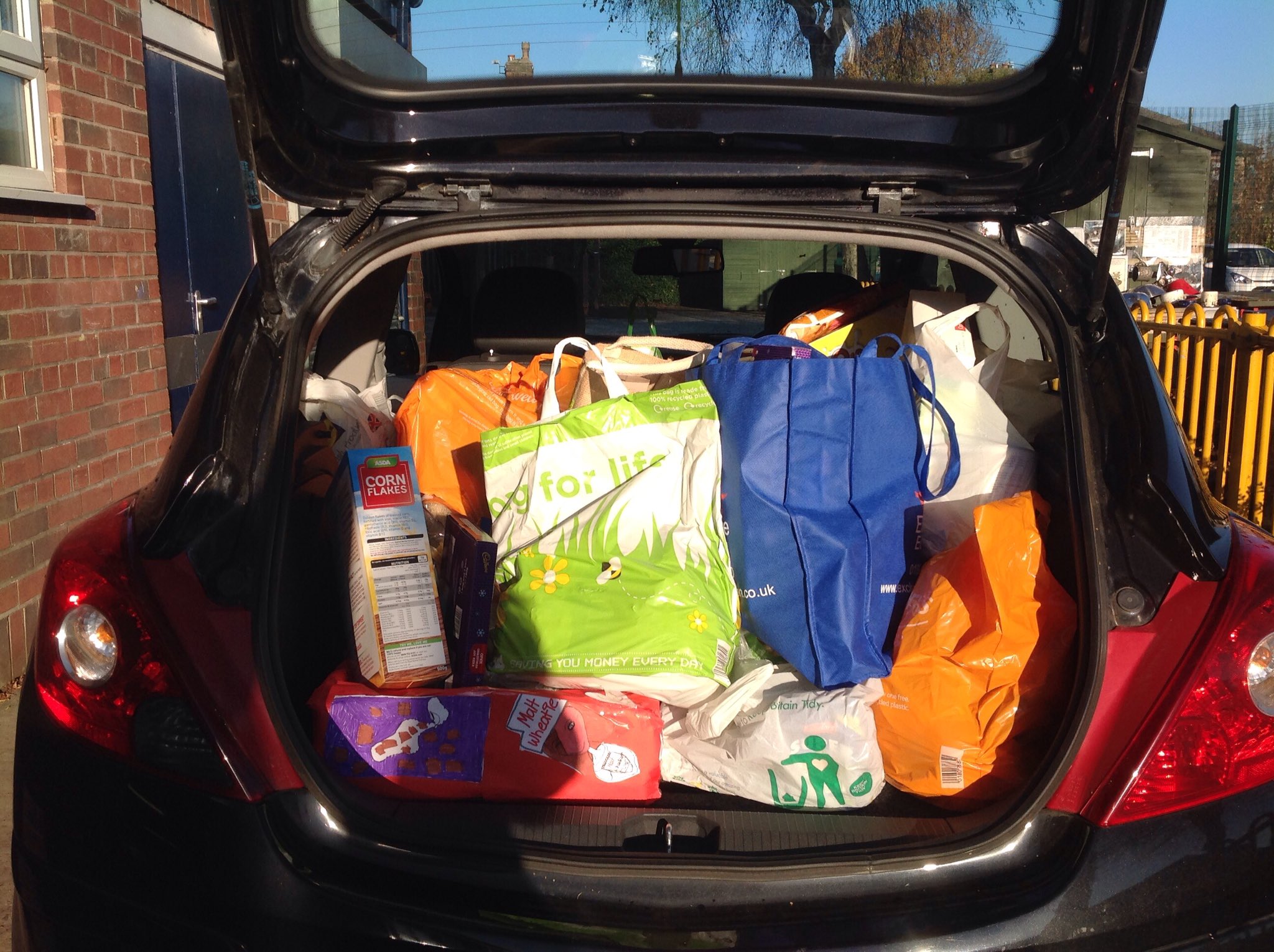 EYFS- Sponsored Walk for Guide Dogs Trust UK November 2017
The Early Years Foundation Stage children at St Augustine's Catholic Primary School have been learning all about People Who Help Us. Following a visit from a local speaker, the staff and children were inspired to complete a sponsored walk to raise money for Guide Dogs Trust. Three guide dogs and their owners showed their support by joining the children and their families on the walk.
Quote from Mrs Towey, Headteacher at St Augustine's
"The children were delighted with the visit from the guide dogs and thoroughly enjoyed learning about how much they help the people they work with. £175 has been raised for this worthy cause."
This event received support from Guide Dogs Trust UK and Warrington Guardian.